10-5-2 Prairie Run
Note: This event has already passed.
Greetings, we are excited to have you join us for the 35th Annual 10-5-2 Prairie Run!

Five and ten-mile start at 7:00 am.
Two-mile starts at 7:10 am.
The 10-mile run is an Army Ten-Miler Qualifier for Active Duty Soldiers

Awards provided to the top three finishers in the men's and women's 5 and 10-mile races.

Packets will only be available onsite at King Field House, building 202, on 25 July from 5:45 am - 6:45 am.
Runners need to be ready to line up by 6:50 am.
Safety Mitigations:
Masks must be worn by anyone not physically running
Water will be provided at each mile marker, with bottled water at the finish line.
T-shirt and bib pickup will be in the East parking lot with physical spacing between staff and patrons.
Hand sanitizer will be available in the staging area, in the T-shirt pickup area, at the finish line and as needed elsewhere.
Runners will stage in the physically spaced area at the start line in groups of 5.
Upon completion runners will immediately depart the area.
Awards ceremony will be conducted at a later date with awards presented at a Town Hall.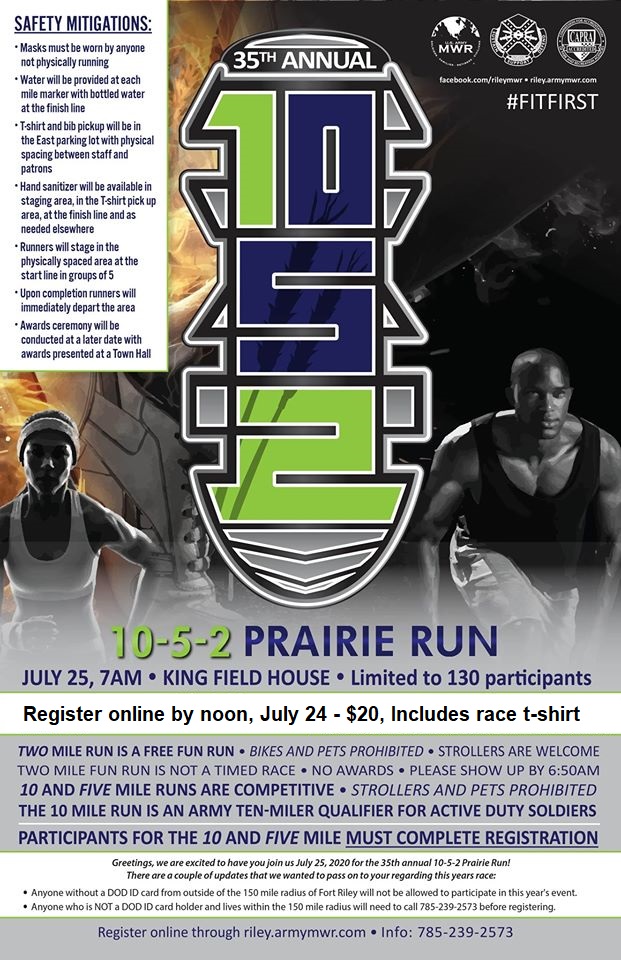 Cost
March 18 - July 7,
$15, 5 and 10-mile runs are $15 include a T-shirt.

July 8 - July 24
$20, 5 and 10-mile runs include a T-shirt (size not guaranteed).

2-mile run is free, stroller friendly, (no bikes) but is not chip timed.
Registration Information
Online registration for the 5 and 10-mile events cuts off at 12:00 pm on Friday, July 24.

No registration required for the two-mile run, doesn't include awards or a T-Shirt.
For more information, contact Whitside Fitness Center at 785-239-2573