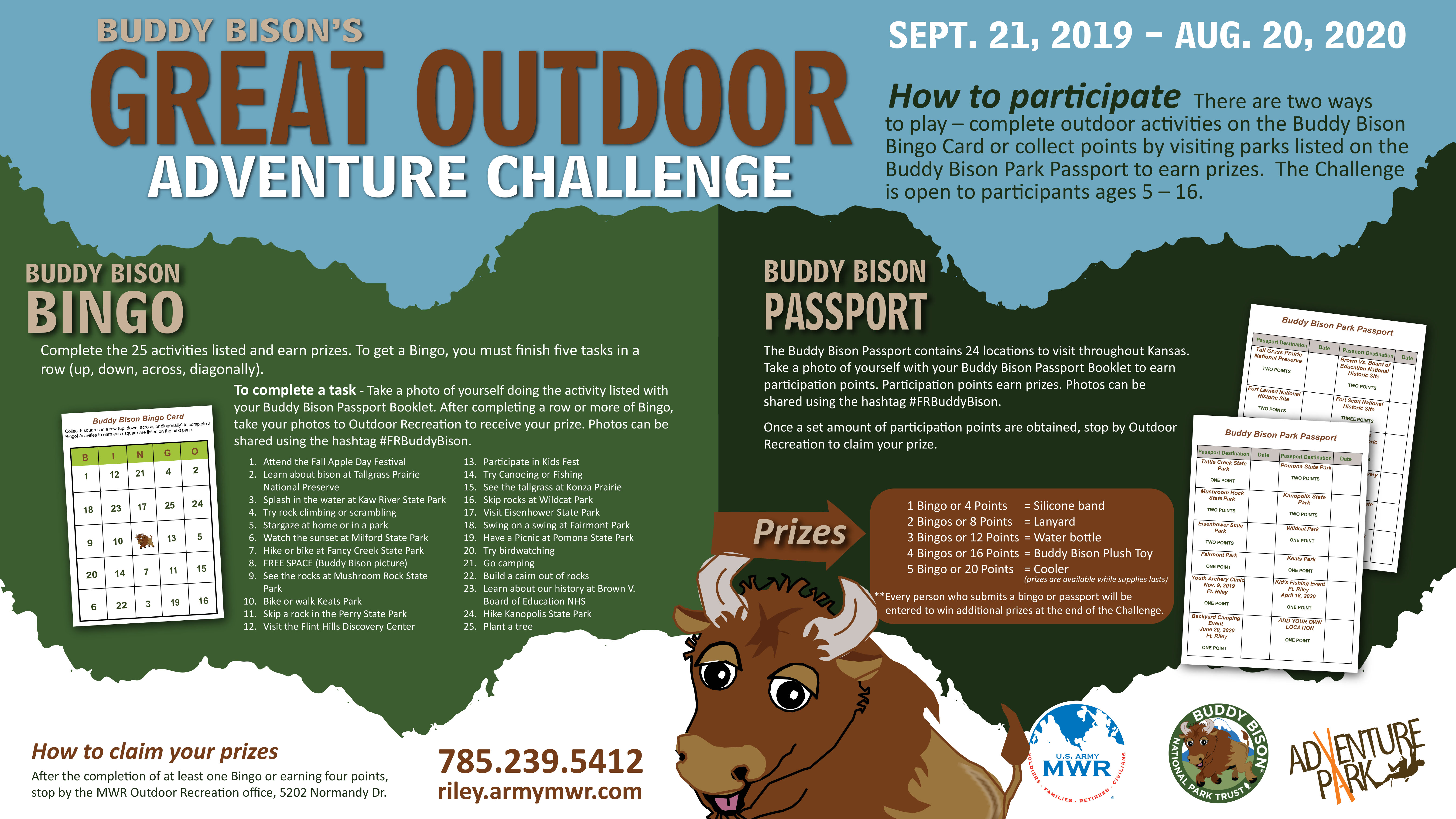 Buddy Bison's Great Outdoor Challenge
Date: Feb 5 2020, 12 a.m. - Aug 20 2020, 11:59 p.m.
Outdoor Adventure - Normandy Drive 5202 Fort Riley 66442 Google Map
Get outside and experience the outdoors!
There are two ways to play - complete outdoor activites on the Buddy Bison Bingo Card or collect points by visiting parks listed on the Buddy Bison Park Passport to earn prizes. The challenge is open to participants ages 5 -16.
Complete the 25 activities listed and earn prizes. To get Bingo, you must finish five tasks in a row (up, down, across, diagonally).
The Buddy Bison Passport contains 24 locations to visit throughout Kansas. Take a photo of yourself with your Buddby Bison Passport Booklet to earn participation points. Participation points earn prizes. Photos can be shared using the hasghtag #FRBuddyBison. Once a set amount of participation points are obtained, stop by the Outdoor Adventure and Travel Center to claim your prize.
Pick up your Buddy Bison Passport at the Outdoor Adventure and Travel Center (5202 Normandy Dr., Fort Riley, KS 66442). Visit parks or complete activities to win prizes like our plush bison toys or coolers.
Use the hashtag #FRBuddyBison to connect with the local Buddy Bison community and to have your picture featured on our page!
For more information, call 785-239-5412
Download your Buddy Bison Passport here!