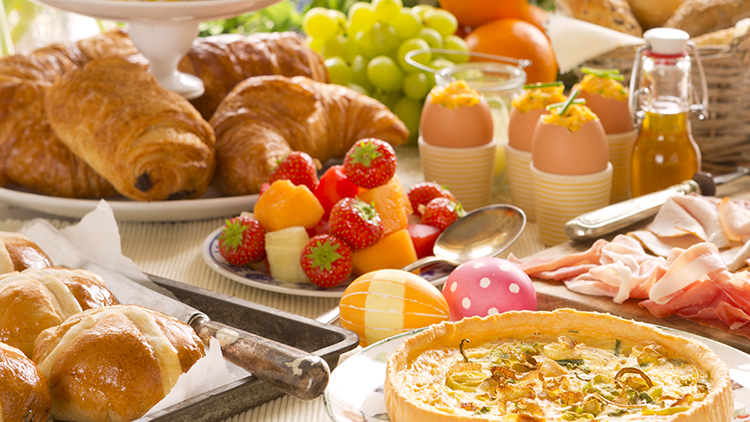 Note: This event has already passed.
Date: May 13 2018, 10 a.m. - 2 p.m.
Riley's Conference Center - 446 Seitz Dr. Fort Riley 66442 Google Map
Make reservations today Mother's Day Brunch at Riley's Conference Center. Enjoy a delicious array of breakfast favorites and lunch classics ... but the real stars of the show are the mimosas and the action stations, featuring carving and made-to-order omelets.
Reservations are highly recommended; make reservations online or at Riley's Conference Center. Walk-ins will be seated as space becomes available.
Mother's Day Brunch is sponsored by Armed Forces Bank.
*Sponsorship does not imply U.S. Army endorsement

MENU: A CELEBRATION OF MOMS
Breakfast Action Station
Fluffy Egg Omelets with a bounty of garden-fresh accompaniments
An Array of Breakfast Danishes, Muffins, Croissants, Orange & Raspberry Butters
Breakfast On The Buffet
Crispy Oven Baked Ribbons of Bacon
Summer Style Roasted Patties of Sausage
Freshly Grilled Home Fried Redskin Potatoes with Bacon Fat, Yellow Onions, Spices & Cumin
Freshly Baked Buttermilk Biscuits & Country Cream Gravy
The Wooden Spoon
-Key West Seafood Chowder (featuring clams, baby scallops, shrimp, sweet potatoes & Caribbean Jerk)
Greens & Things, Featuring our Jazz Salad Action Station
(Traditional fresh mixed garden greens, highlighted by our healthy toppings. Hand tossed to order!)
Salad Selection One: Orzo, Hard Cooked Eggs, Red Onions, Plum Tomatoes, Nicoise Olives, Capers, Reggiano & Italian Vinaigrette
Salad Selection Two: Black Beans, Sweet Kernel Corn, Jicama, Jalapenos & Southwest Vinaigrette
Salad Selection Three: Lentils, Olives, Green Onions, Carrots, Red Bell Peppers & Classic Vinaigrette
International Theme Cuisine: "You Are The Chef"
Featuring the 'Wholli Ravioli 'Sizzle' at the Chef's Table'…
Stir up the thrills and create your very own signature dish!
Chef's Carving Table
Slow Roasted Center Cut Loin of Pork Basted in a Mango Chipotle Glaze
The Main Event: Entrée Selections
Oven Baked Fillet of Orange Roughy with Cajun Style Jambalaya Sauce
Breast of Chicken Martinique, infused with shallots, white wine, brandy, mushrooms, capers, & cream, finished with Monte au Buerre & Madeira
Vegetable Selections
Deep Fat Fried Cornmeal Crusted Okra
Harvard Beets, accented with Cinnamon, Cloves, Bay Leaves, White Sugar & Clarified Butter
Starch Selections
Fresh Baked Chive Scalloped Potatoes
Arborio Rice flavored with Shallots, Olive Oil, Vegetable Stock & Saffron Threads
Finishing Touches
(All dessert offerings are handmade by our chef)
Chocolate Bourbon Mousse
Cinnamon, Nutmeg, Brown Sugar Apple Crisp
Sour Cherry Crumble
Peach & Blueberry Streusel
Chewy Bittersweet Chocolate Brownies with Walnuts
Wellness & You
(Featuring Chef Mark's handmade, fresh & flavorful smoothie action station)
Pina Colada Frozen Yogurt Smoothie (Non-Alcoholic)
Strawberry Fields Smoothie
Pineapple Fruit Smoothie
Orange Banana Fruit Smoothie
Banana Yogurt Smoothie
Apple, Orange, Cranberry, V-8 Juices
Cost
Adults: $21.95
Children ages 5-12: $12.95
Children ages 4-under: Free
Registration Info
Make reservations online by clicking here
- Choose your seating time by clicking on the appropriate option
Reservations also accepted at Riley's Conference Center: +1 (785)784-1000
Contact